Sayan Sarcar
sayans@slis.tsukuba.ac.jp
1-2, Kasuga, Tsukuba, Ibaraki, 305-8550, Japan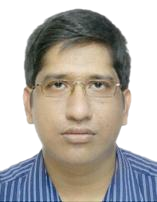 Sayan Sarcar is an Assistant Professor in the
Faculty of Library, Information and Media Science
at the
University of Tsukuba, Japan
. His research interests are in human–computer interaction, aging and accessibility and user interface optimization.
Prior to joining Tsukuba, he worked as a Research Associate in the
School of Information
at Kochi University of Technology, Japan, where he was a member of
Center for Human-Engaged Computing
directed by
Prof. Xiangshi Ren
. Before that, he obtained PhD degree from
IIT Kharagpur
, master and bachelor degrees from
West Bengal University of Technology, India
.
His research sits at the intersection of Human-Computer Interaction (HCI) and Accessibility. In particular, his research emphasizes on improving human individual abilities through developing intelligent systems using design and modelling practices, specifically focused on individual differences in users' sensorimotor abilities toward technology adoption.
CV / Google Scholar / Linkedin / Github / Twitter
---
Join our group
We are always looking for talented, hard-working, and self-motivated students to join our group. A range of graduate and undergraduate projects are available. The candidate must have strong skills in computer programming, interaction design, and/or qualitative and quantitative research methods. Current University of Tsukuba students can contact directly over email to express their interest in working with us. A few JSPS Postdoctoral Fellow positions and unpaid on-campus or remote volunteering opportunities are also available. Visit Information for Prospective Students and Postdocs for further details.
---
News
Our paper on Adaptive Feature Guidance: Modelling Visual Search with Graphical Layouts just got accepted at International Journal of Human Computer Studies (IJHCS). Details will be updated soon
Joined in the Program Committee of CHI 2020 conference.
Joined in the Program Committee of ISS 2019 conference.
Paper on On Gesture Combination: An Exploration of a Solution to Augment Gesture Interaction accepted to ACM ISS 2019 as a Full Paper. The paper can be downloaded from here
Co-organizing a workshop on Towards a Research Agenda for Gameful Creativity at DIS 2019.
Position paper on Exploring Performance of Thumb Input for Pointing and Dragging Tasks on Mobile Device got accepted at the Asian CHI Symposium which will be colocating with ACM CHI 2019
Joined in the Program Committee of INTERACT 2019 conference.
Joined in the Late Breaking Work Program Committee of ACM CHI 2019 conference.